What is FOCUS?
FOCUS is an evidence informed care coordination/planning practice.
Children, adolescents, and their families deserve a care coordination approach that is driven by them, matches their intensity of need, and integrates developmentally appropriate practices. FOCUS is an evidence-informed model that achieves those objectives.
In remaining committed to System of Care values and principles, practitioners need to do more than ensure access to interventions: they need to actively approach their work in a fundamentally different way. FOCUS translates the evidence-base around best practices in the field into consistent concrete practices with families, an approach that leads to positive outcomes.

Supports decreased system involvement while building connections between families and the community-based resources that they find most helpful.

Revolutionizes traditional case management models and operationalizes System of Care values.

Integrates into a 3-tier intervention system that includes intensive care coordination (Wraparound), intermediate care coordination (FOCUS), and navigation (information, warm referrals & handoffs).
Intended Population
FOCUS is intended for youth with lesser complex needs, who are system involved, at risk of deeper or multi system involvement, and whose challenges exceed the resources of a single organization. The model is an essential intermediate component within a System of Care for youth and families who may not otherwise receive adequate or appropriate care coordination.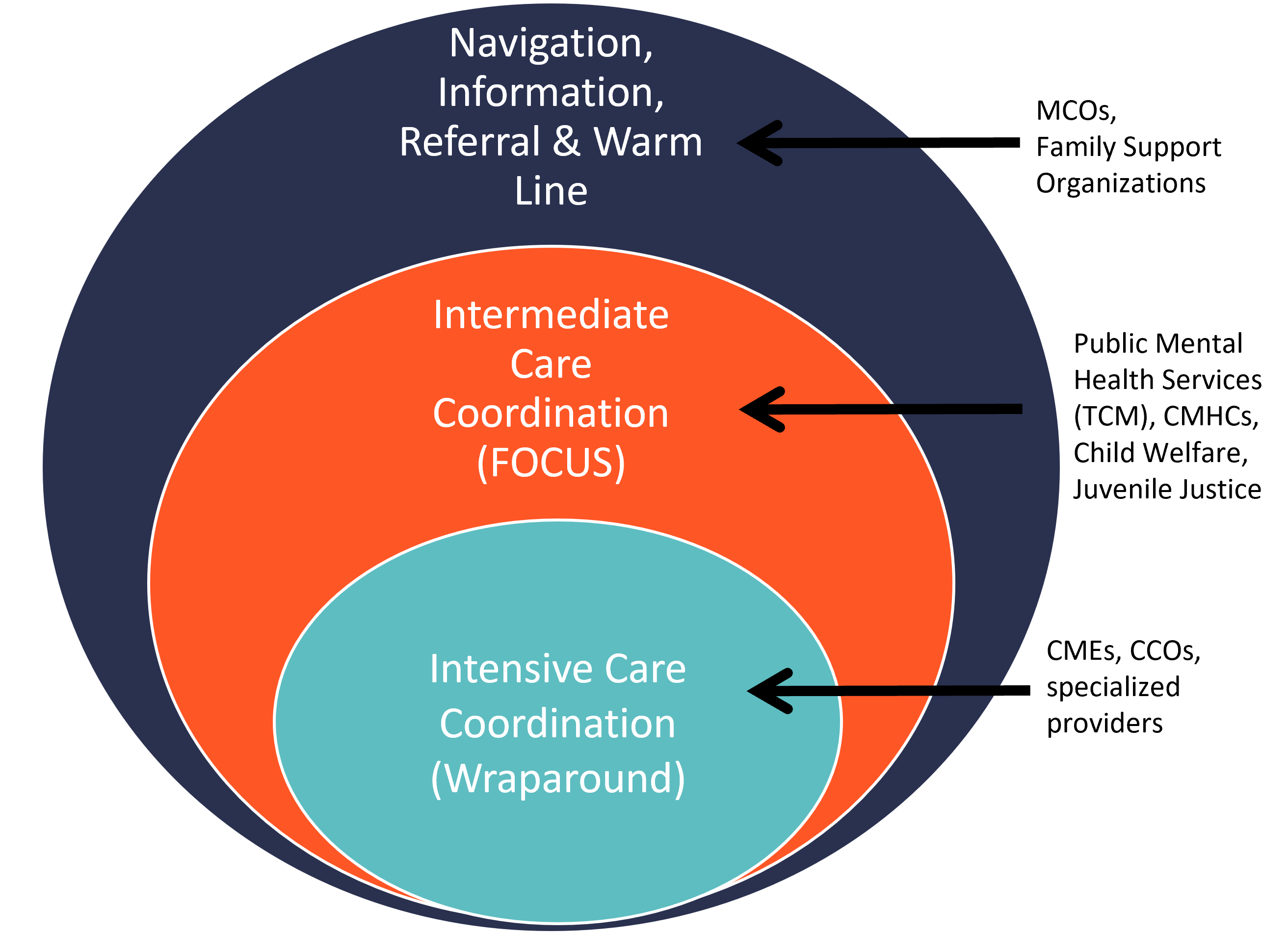 Most person-centered practice models adhere to a set of values and principles associated to the work. These four components are the grounding force behind the evidence-based component of FOCUS.
Philosophy of Care
Families experiencing meaningful connections - positive relationships are necessary for healing
Outcomes - things are getting better
Coordination - everyone works together towards a common goal
Unconditional Positive Regard - genuine acceptance no matter what
Short-Term process - build sustainable connections to community resources & minimize system reliance
---
Why FOCUS?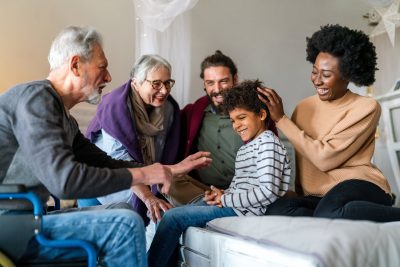 The model is designed specifically to serve families who have come to the attention of child welfare, juvenile justice, school settings, and/or behavioral health agencies.
FOCUS aligns with best practices in the field, providing specific definitions of how the practice unfolds at the level of daily interactions with families (Bartley et al, 2020).
Families deserve support that is helpful and relevant to their most pressing concerns. Small care coordinator to family ratios (1:15-17) allow the FOCUS care coordinator to support families in achieving their best lives rather than containing problems.
What will be different for our organization and families when we implement FOCUS?
Families get the intensity of service/support they need and deserve
Care coordinators cultivate authentic partnerships with families that drive the planning process
System of Care values are operationalized throughout day-to-day care coordination, supervision, and coaching activity
Progress is consistently tracked, plans of care are monitored and adjusted accordingly
Community service array is broadened and enriched
In Nevada, the Division of Child and Family Services works with families with varying levels of needs. With the implementation of FOCUS, Nevada has created a Tiered Care Coordination service delivery model. This approach allows families to receive the right level of intervention at the right time. FOCUS, an intermediate care coordination model, provides families the individual support needed and works to eliminate the need for more intensive interventions.
– Kathy Cavakis & Beverly Burton
Nevada Division of Child & Family Services